Molecular Tests
All PCR tests have been developed and validated at ViruSure. We can also develop and validate specific PCR tests for our customers. Because we work with highest quality all assays include appropriate positive, negative, and interference controls.
A Range of Available Molecular Tests
ViruSure's PCR and sequencing labs have been designed to ensure strict segregation that minimizes any risk for cross contamination.
For many years, the isoenzyme test had served as the main test for confirming identity but has fallen from favor. To that end, ViruSure has taken identity testing to a new level by designing a state-of-the-art qPCR-based quantitative identity test capable of detecting cross-contamination of other species down to <0.01% level of specificity.
Molecular Test: Adventitious Agent Testing
A range of qPCR tests for common virus contaminants are offered including Mice minute virus (MMV), Porcine circovirus (PCV1 and PCV2), Vesivirus 2117, and many others. A full list of available tests can be provided on request.
qPCR for mycoplasma + mycobacteria detection
The Mycoplasma qPCR assays are designed on the 16S rRNA gene and are performed/validated according to the European and Japanese Pharmacopoeia. The Mycobacteria qPCR designed on the 16S rRNA gene and are performed according to the European Pharmacopoeia.
Assessment of the identity and purity of the cell bank lines is a critical part of the quality evaluation. Species like hamster, cow, pig, mouse and human are covered by the qPCR assays using primer sets designed on the Cytochrome C Oxidase gene.
qPCR for residual DNA quantitation (host-cell DNA)
The removal of host cell impurities (e.g. residual host-cell DNA) is a critical step in the production of biopharmaceutical products. The introduction of residual host-cell DNA into patients may lead to an increased oncogenicity, infectivity, and immunomodulatory risk. Therefore, agencies including WHO, EU, and the FDA limited the accepted amounts of residual DNA (less than 10 ng or 100 pg/dose), which is defined by WHO and EMA. Among the methods of detecting residual DNA, qPCR is considered to be the most practical for residual DNA quantitation due to its sensitivity, accuracy, precision and assay time.
Fluorescent Product Enhanced RT Assay is used when highly sensitive qualitative fluorescent results are required for testing levels of retrovirus in vaccine or recombinant bulk.
Next Generation Sequencing
Based on metagenomics, NGS is an upcoming technique that has the potential of detecting all contaminations within a biological specimen. Contrary to qPCR assays, this can be achieved without the need of any prior sequence information.
Molecular Test: Genetic Stability
Genetic stability of an insert within e.g. a cell bank or a virus stock has to be demonstrated. By using Sanger sequencing, the sequence of the insert can be compared to the reference sequence and possible mutations/deletions can be detected.
To ensure that the gene of interest is stably maintained and expressed during the whole usable life span of the cell clone, specific qPCR assays for gene copy number determination are designed and validated.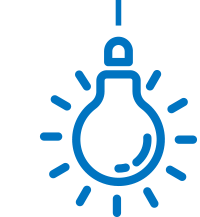 By qPCR it is possible to detect up to one gene copy per µl in your testing material.
Did you know?
Let's Talk About
Your Molecular Tests
Tell us about your inquiry and we'll be in touch.